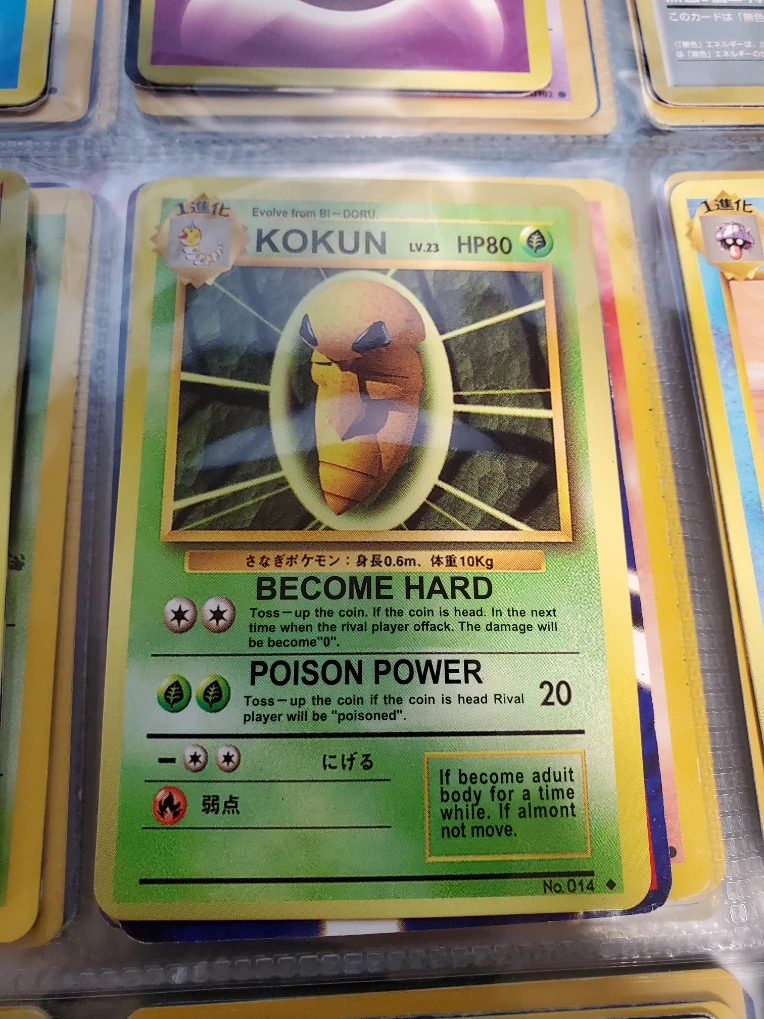 Today's random Pokemon card is a 20+ year old fake! It's a Kakuna.... or Kokun?
My wife has a bunch of these in her collection, so this picture is directly from one of our binders.
These cards are like 10-20% smaller than normal Pokemon cards. They have Japanese backings, but the colors and layouts for all of the cards are awful. Some use multiple font types and sizes, which makes them even more bizarre to look at. They're riddled with spelling errors and they have ridiculous attacks like "BECOME HARD." Right....
Here is the description for "Become Hard" with no adjustments to spelling or grammar:
Toss - up the coin. If the coin is head. In the next time when the rival player offack. The damage will become "0".
And that bottom box?
If become aduit body for a time while. If almont not move.
I have no idea what this even says!?? This junk feels like it was written by a non-English speaking 8 year old.... Some of the other cards have attacks like "Freeze Beam" and "Flame." Just... weird.
Do you have any fakes in your collection? If you ever got fake Pokemon cards, would you keep them for fun or throw them out? (Please don't tell me you'd try to scam someone with them!)